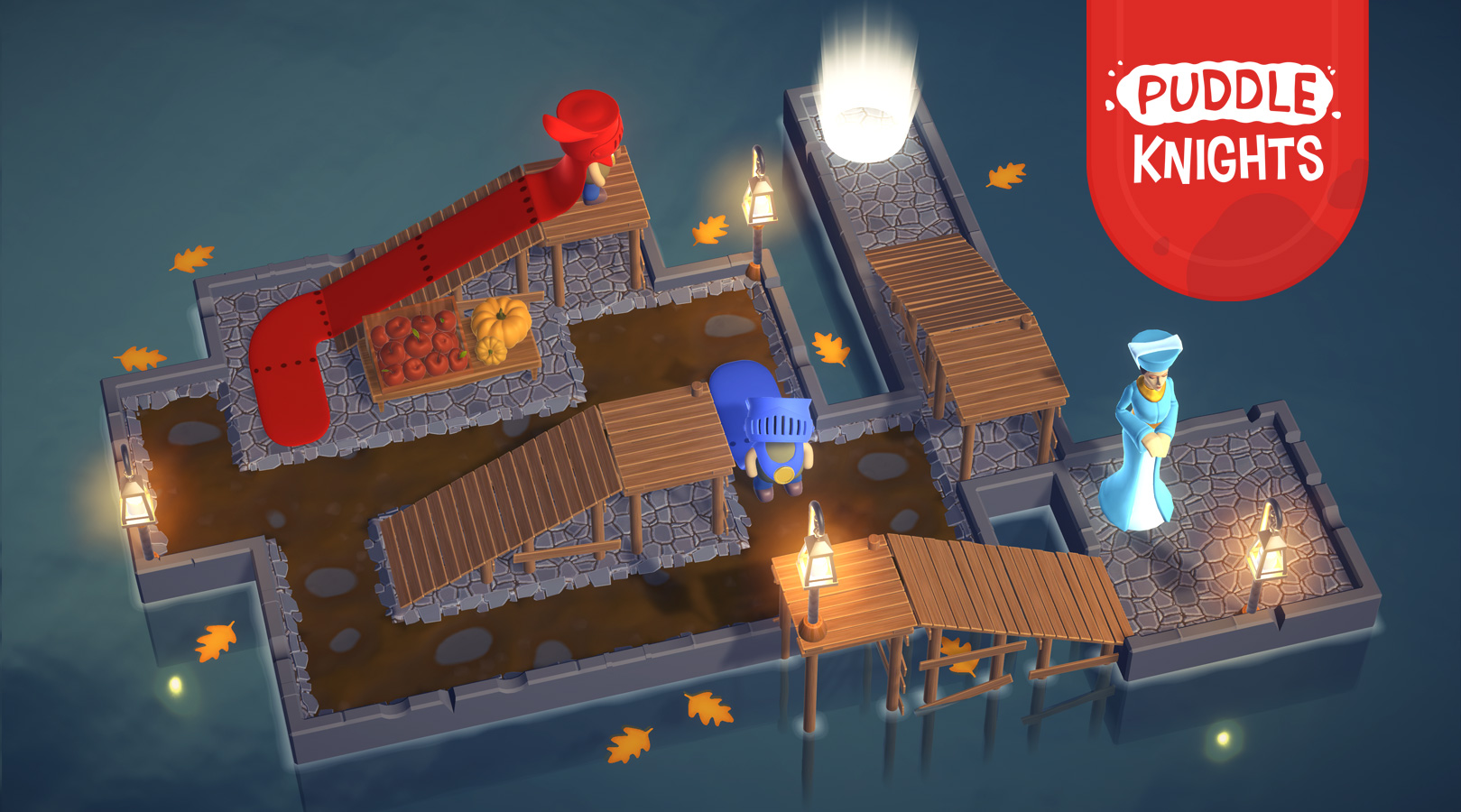 Description
Puddle Knights is a turn-based puzzle game featuring medieval scenery and unique mud-and-cape based gameplay. You direct knights with a cape trailing behind them in a snakelike fashion, trying to get nobles to their goal without getting mud on any fancy clothes. The game builds up depth on top of an elegant set of unique core mechanics to provide a variety of challenging puzzles.
Features
90+ handcrafted challenging levels
Unique gameplay mechanics including cape tearing, one-way drawbridges and head hops
Avoids logic puzzle game cliches
Mistake-making and experimentation enabled by Undo and Reset functions
History
Puddle Knights started development as a two-day prototype in December 2018, which already included the current set of core mechanics, but just a handful of levels and simple graphics. However, the concept stuck and the team soon felt there was a lot more to explore in the land where capes are long and mud is plentiful. The ideas had to brew for a while longer until Harry Damm joined Olli Etuaho at Lockpickle in spring 2019 and the project was picked up for further development.
Gameplay mechanics were added, with some like swine herding eventually getting axed while others like drawbridges and stepping on heads found use in lots of levels. An investment was also made to a custom animation system that makes the capes flex just the right way in motion, as well as custom level editing tools that made adding the rest of the 90+ levels a breeze.
Now the game has several hours of gameplay and is planned for a March 2020 release while the team tweaks the difficulty curve and puts in some final touches.
Other platforms will likely follow the initial PC and Mac release later.
---
Videos
Puddle Knights YouTube
---
Images
download all screenshots & photos as .zip (4MB)
---
Logo & Icon
download logo files as .zip (198KB)
---
Puddle Knights Credits
Olli Etuaho
Business & Development, Concept Artist, Lockpickle
Harry Damm
Game Design, Audio Design, Music, Level Design, Lockpickle
Pyry Takkunen
Game Design, Level Design, Freelancer
Antti Hamara
3D Lead Artist, Technical Artist, Freelancer
Ville Paloheimo
3D Character Artist, Freelancer
Görkem Ayyildiz
3D Environment Artist, Freelancer
Contact